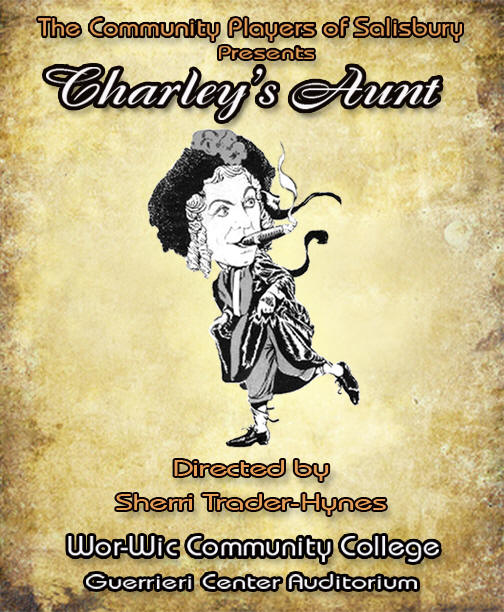 The Community Players of Salisbury
President's Message
Dear Friends and Family,
Good evening and welcome to the second show of our 70th season. We hope you enjoy this classic farce with its obligatory mistaken identity. As you look through our program please linger a moment on our advertisers. We think we have some exceptional services to offer and hope you will take advantage of them. As always, thank you for your support of the Arts and particularly Community Players.
Sharon Benchoff
Officers
President Sharon Benchoff
Vice-President
Corresponding Secretary Jan Bellistri
Recording Secretary Kel Nagel
Treasurer Charles Linton
Immediate Past President Sherri Trader-Hynes
Board of Directors
Carol Alex David Allen Ernie Matthews
athy Panchyk Ken Johnson Tom Robinson Susan Rogers
Standing Committees
Advertising David Allen
Box Office John Alex
Concessions Brenda Allen
Fund Raising Rusty Mumford
Historical Bonnie Bosies
House Carol Alex
Maintenance Lester Huss
Membership Terri Thornton
Nominations Pat Oberholtzer
Patrons Ernest Matthews
Program David Allen and David and Pat Oberholtzer
Production Sharon Benchoff
Scholarship Rusty Mumford
Season Tickets Ernest Matthews
208th 70th
Production Year
<![if !vml]>

<![endif]>
Presents
Charley's Aunt
by
Brandon Thomas
Directed by
Sherri Trader Hynes
Wor-Wic Community College Guerrieri Auditorium
Fri., February 15 and 22, 2008 at 8:00 p.m.,
Sat., February 16 and 23, 2008 at 8:00 p.m. and
Sun, February 17 and 24, 2008 at 2:00 p.m.
Presented by Arrangement with Samuel French, Inc.
This production was made possible, in part, by a grant from the Salisbury Wicomico Arts
Council, awarded by the Maryland State Arts Council and the National Endowment for the Arts.
About Charley's Aunt
Charley's Aunt, a classic comedy in three acts, was first performed at the Theatre Royal in Bury St. Edmunds in February 1892, and after great success was moved to the Royalty Theatre in London then to the larger Globe Theatre in January 1893 to complete its record breaking run.
It opened on Broadway at the Standard Theatre in October 1893 where it ran for another historic long run of four years. In addition, the play toured internationally with long runs in Paris and elsewhere.
Two silent films versions were released in 1915 and 1925 with a "talkie" film version released in 1930 making it one of the earliest "talkie" comedies. A more familiar film version was released in 1941 starring the one-and-only Jack Benny. Following that success, a Broadway musical version, Where's Charley, was released and had a successful run in the late 1940's and early 1950's; there was a second successful run in London in 1958, and probably more to come.
Synopsis
The play takes place in May, 1892
at Oxford University, Oxford, England
Act I
Jack Chesney's Sitting Room
Early morning
10 Minute Intermission
You're invited to visit the refreshment stand in the lobby during intermission.
Act II
Garden Outside Jack Chesney's Room
Early afternoon
10 Minute Intermission
You're invited to visit the refreshment stand in the lobby during intermission.
Act III
Spettigue's Sitting Room
After dinner that night
Please do not take photographs or video during our performance,
and please turn all cell phones and pagers either off or to vibrate.
CAST
(In order of appearance)
Jack Chesney........................................................... Tom Hamill
Brassett.................................................................. Joe Benamati
Charley Wykeham.......................................... Jared Alan Shelton
Lord Fancourt Babberly.......................................... Matt Robins
Kitty Verdun.............................................. Jennifer Bratten Tusing
Amy Spettigue.......................................................... Tara Dykes
Sir Francis Chesney............................................ Orville Nichols
Mr. Spettigue............................................................ Lester Huss
Donna Lucia..................................................... Bobbie Calloway
Ela Delahay............................................................. Katie Simms
PRODUCTION STAFF
Producer
...................................................................... Sherri Trader Hynes
Assistant to the Director
........................................ Amanda Welch Hamill
Stage Manager
........................................................................ David Allen
Set Design
..................................................................
S
herri
Trader Hynes
Set Decoration
............................................................ Sherri Trader Hynes
Lighting Design/ Lighting....................................................... Gary Finley
Costume Designer/Coordinator........................................ Lynne Bratten
Costumes....................................... Donna James and Jenny Bratten Tusing
Props....................................................................................... Joanne Little
Make-up/Hair..................................................................... Rusty Mumford
Set Construction............................ David Allen, Tara Dykes, Lester Huss,
Sherri Trader Hynes, Matt Robins, Orville Nichols,
Jared Alan Shelton and Dwayne Mears
Sound.......................................................... Tom Robinson, and Kim Mason
Publicity.................................................................................. Jan Bellistri,
Sherri Trader Hynes and Kathy Panchyk
Cover Design & Poster
..................................................... Kathy Panchyk
Program
....................... David and Brenda Allen, David and Pat Oberholtzer
WHO'S WHO IN THE CAST
Joe Benamati – (Brassett) – Joe has been many things for Community Players. He has been onstage in Wizard of Oz as the Cowardly Lion, Oliver!, Annie and Anything Goes as Moonface. He directed A Christmas Carol. He works behind the scenes in construction, sound, and lighting. His favorite roles are the part of Dad to his wonderful daughter, Sarah, and husband to his all-to-forgiving wife, Janet. I love you both!!
Bobbie Calloway – (Donna Lucia) – Bobbie Calloway has been a member of Community Players for many years, and has worked building sets, done back stage, and make up, but her favorite part of being a member is on stage. Some of her favorite roles are Nellie Forbush from South Pacific, Maria von Trapp from Sound of Music, Golda from Fiddler on the Roof, Sonia from Godspell, Bonnie from Anything Goes and Adelaide from Guys and Dolls. She would like to thank her family for always "Loving every part" she has ever done, and for the directors she has worked with for believing in her
Tara Dykes – (Amy Spettigue) – Tara made her stage debut in the 1996 Salisbury (State) University production of The Secret Garden as Mary Lennox. She has appeared in many Community Players productions over the years including The Sound of Music as Marta, Spider's Web as Pippa and Annie as an orphan. Besides acting she also has a passion for singing. Most recently she was a member and musical director of the nationally recognized colligate a cappella group, Sweet Signatures at Elon University. Tara now lives in the Salisbury area and teaches at Bennett Middle School.
Tom Hamill – (Jack Chesney) – Tom first appeared in How to Succeed in Business for Players. This is his fifth play with us. While Players has served as a consistent way for Tom to exercise his thespian muscle, it also led him to his beautiful wife, Mandy, who is giving him direction in this play. Tom spends his spare time teaching English and Latin at Snow Hill High School.
Lester Huss – (Mr. Spettigue) – A long time member of players, he first started with Fantastics (1975). He has been in many productions, both behind the scenes and on stage. Last seen in Anything Goes and Dial "M" for Murder, he has worked as stage manager for How to Succeed and Annie (Both in '83 & 2000). He has worked on set construction and as stage crew on several other productions. He has had the pleasure to work with some of the best in the area, encouraged from school days by Anne Lee Trader, and Phyllis Oldham. Memories of Paul Vineyard, Ruth Burnett, Sue Hess, Nick Myers, Jack Lynch, Eddie and Don Atkinson are treasures he keeps. To continue this type of work (fun) with old friends and making new ones, is what he loves.
Orville Nichols – (Sir Francis Chesney) – This is Orville's fourth show with Players. He was Billy in Anything Goes. He also performs in a Big Band Bash 40's Radio Show with Swing Time Entertainment. He has done several shows with the Possum Point Players, most recently appearing in Jekyll and Hyde. He has been in drug store retail for over 30 years as a store manager. He has a daughter, Nicole, a son, Travis, and a grandson, Damon.
Matt Robins – (Lord Fancourt Babberly) – Like Lord Fancourt Babberly, Matt has never acted in his life before besides a few small parts in school plays at Salisbury Christian School under the direction of Susan Rogers. However he's no stranger to the stage as he has been a drummer and/or vocalist for groups in both high school and college. He is currently on the worship team of Providence Presbyterian Church. Matt is a graduate of James M. Bennett High School in 2001 and received a Computer Science degree from Messiah College in 2005. He is employed by Data Services, Inc in Salisbury.
Jared Alan Shelton – (Charley Wykeham) – Jared has loved playing Charles Wykeham. Like young Charley, Jared is shy, easily agitated and prone to worry and angst - yet, he appreciates good humor and absurdity. Unlike young Charles, Jared has chosen the thoroughly enjoyable yet unrefined blue collar life of an HVAC Installer and sheet metal mechanic with a local commercial mechanical contractor. In his free time Jared studies domestic and foreign politics, gardens, sings, adores Ms. Faith Harr and is an active member of Providence Presbyterian Church in Salisbury. He thanks Ms. Harr, his parents, siblings and friends - especially Matt "Babbs" Robins - for making his life fun and entertaining!
Katie Simms – (Ela Delahay) – Katie first appeared with Players as Annie in Annie. She was last seen in Anything Goes. She was in many Salisbury School productions most of which were in starring roles, including Peter Pan in which she played Peter.
Jennifer Bratten Tusing – (Kitty Verdun) – Jenny has been performing with Community Players since her teenage years, most recently as Myrtle Mae in last year's production of Harvey. She has also appeared as Jill in The Mouse that Roared, Beth in Little Women, Bet in Oliver! and various walk-on roles in other musical productions. In addition to performing with Community Players, Jenny has been in shows with Wor-Wic Community College, Salisbury University, the University of Maryland, and Parker Productions. Jenny spends her working hours teaching Spanish at Wor-Wic.
WHO'S WHO Backstage
Sherri Trader Hynes – (Director/Producer) – Sherri was practically raised in the Community Players workshop having been involved with the Community Players for nearly 40 years in virtually every capacity of the group, from acting, singing, handling props, and stage manager. She has served on the Board of Directors and served as President on two different occasions. She was last seen in Anything Goes. Her leading roles include Irene Molloy in Hello Dolly, Maria in The Sound of Music, Nancy in Oliver!. She also starred in The King and I, Blithe Spirit, You're a Good Man, Charlie Brown and You Can't Take it With You for Community Players. In addition, she has had lead roles with Masque Dinner Theatre as Bloody Mary in South Pacific and Eliza Doolittle in My Fair Lady for Possum Point Players in Georgetown. Sherri previously directed Oklahoma!, Bye Bye Birdie, Annie, The Wizard of Oz and Godspell for the Community Players.
David Allen – (Stage Manager/Set Construction) – David Allen started in Players in the fall of 1993 helping with lights in Oklahoma! Since then he has worked in every show Players has produced. He has been seen once or twice on stage, but usually he is behind the scenes. He has been president and is now a board member again. He also works with Salisbury School, ESBT, Children's Theater of Delmarva, Salisbury Dance Studio, Footsteps, Seaside and Magi. He would like to thank his wife (Brenda) and their two kids (Justin and Kristin) for putting up with his crazy hours.
Lynne Bratten – (Costume Design) – Lynne has done costumes for more shows then we can count. She began with 1776. Other shows include The Wizard of Oz, Bye Bye Birdie, Annie, Oliver!, Sound of Music, Oklahoma! Cinderella, Fiddler on the Roof and The King and I. She has also done costumes for the Rock and Roll Revival and local high school drama productions.
Gary Finley – (Lighting Design/Lighting) – Gary has been lighting the stage for Wor-Wic Community College for the past seven or eight years, including most of their annual Dessert Theatre and Variety Show productions. This led to work with Community Players. Most recently, Gary has had his hand in lighting Harvey, Laughing Stock, Bell, Book, & Candle, An Inspector Calls, and You Can't Take It with You.
Amanda Welch Hamill – (Assistant Director) – Mandy is a graduate of Catholic University with a Masters of Fine Arts in Acting. She debuted with Players as Anne in Cheaper by the Dozen. Over the past fourteen years, she has been in such Players shows as Laura in the Glass Menagerie, Corie in Barefoot in the Park, Gillian in Bell, Book, & Candle and most recently as Nurse Kelly in Harvey.
Joanne Little – (Props) – A Life-time member of Players, she has been involved with 43 musicals and props for over 20 non-musicals. She's a retired teacher and presently Organist/Director at Manokin Presbyterian Church and Organist at Grace Episcopal Church.
Kim Mason – (Sound) – Kim has been part of Player's sound team for Godspell, Wizard of Oz, Meet Me In St. Louis, How To Succeed in Business, Don't Drink the Water, Footloose, Laughing Stock, Anything Goes and High School Musical.
Rusty Mumford – (Make Up) – Rusty has done something in almost all our shows for the last 20 years. This time he is doing make up. He has been president of Players, directed many shows; Anything Goes was his latest, and appeared in countless productions with Harvey being his latest.
Tom Robinson – (Sound) – He was in Hello Dolly, The Wizard of Oz and Meet Me in St. Louis. He did special effects for The Wizard of Oz and You Can't Take It with You and sound for Godspell, A Christmas Carol, How to Succeed in Business, Don't Drink the Water, Footloose, Laughing Stock, Anything Goes, Harvey and High School Musical.
Acknowledgements
Garden furniture courtesy of Atria Senior Living Group, Salisbury
Cambridge South Dorchester Drama Program
Dr. T Paul Pfeiffer
Christ United Methodist Church
Jones & Dryden Truck Rental
Dr. Judy Ferrand, Wor-Wic Community College
Pierre's Costumes of Philadelphia
Sharptown Volunteer Fire Dept
Clear Channel Broadcasting
Great Scot Broadcasting
PAC 14
The Daily Times
WBOC (Channel 16)
WMDT (Channel 47)
And a special thank you to those individuals who assisted us
but whose names do not appear in this program.
Director's Message
Dear Friends and Family,
Greetings and welcome once again to Wor-Wic Community College for our second show of the 2007/2008 season, the British classic comedy Charley's Aunt.
Do you remember Robin Williams in the hit movie Mrs. Doubtfire? What about Dustin Hoffman in his award winning role in Tootsie? You may think that the concept of a man dressing as a woman somewhat innovative or contemporary; however, that is not the case. Charley's Aunt, which was written in 1892, is the epitome of classic British humor mixed with forlorn lovers, mistaken identities and "cross dressing" at its finest.
Ever notice how some people just seem to connect and get along from the beginning? As the director, I was incredibly lucky to find such a group of people in the cast of Charley's Aunt. Not only are they very talented, but they are a joy to work with and have made this entire experience a great deal of fun. Thank you for making me laugh for the past 2 months! You are all magnificent and I love you all!!
I must tell you we have had a wonderful time rehearsing this show for you and sincerely hope you will enjoy seeing it as much as we have enjoyed bringing to you.
This past January The Community Players of Salisbury lost two friends. George George, although not active in recent years, was very active in the 1960's with several leading roles in many plays, but is probably best remembered playing the role of Nathan Detroit in our first musical endeavor Guys and Dolls in 1966. The second, Kenneth S Johnson never graced us with his presence on stage, but he graced me with his presence in helping with set work and coming to rehearsals to offer support. And more importantly, he never missed seeing a show that either his children or grandchildren were performing in. We shall miss them both.
Sherri Trader Hynes
In Memoriam
With a sad heart we acknowledge the death of Don Atkinson, a man who made us laugh and enjoy the plays he both acted in and directed.
By day, Don was an accountant but, by night, when the
stage lights came up, Don was 100% actor.
Don, who first appeared on our stage in The Nerd in 1990 and last appeared as Dr. Chumley in Harvey just a few months ago, passed away Sunday, June 3, 2007 after a brief illness
.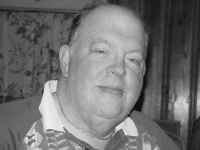 Don was a loving, giving person. We share in the grief felt by his father and the rest of his family and friends.

We will miss you.

<![if !mso]><![endif]>
Watch for our other show
of the 2007-2008 Season
Wait Until Dark
Visit us on-line at
www.communityplayersofsalisbury.org
For more details and to order tickets
<![if !vml]>

<![endif]>

<![if !mso]><![endif]>

PATRONS 2007-2008

Sustaining Members

Tom and Susan Robinson

Guardians

Dr. Lynne Everett Kel & Debbie Nagel

In Memory of Mary E. Spencer

Benefactors

Barbara S. Hanson - Dance Unlimited Mrs. Mildred Palmer

Angels

John Atkins Services Inc Richard and Nanette Bird

Lloyd & Alice Foard Stephen M. Hearne & Holly W. Hearne

Fred G. Livingood George and Arla Stroup

Donors

Fred & Nancy Althaus Ron & Jackie Ayers

Jane W. Bailey Ann Marie & Chris Barnes

Mr. & Mrs. Charles L. Bloodsworth Andy & Marilyn Booth

Jane S. Buckley Michael & Annette Conger

Marguerite Powell Davis Lin and Lucy Davis

John & Carol DeBerardinis Ed & Norma Fleischer

Hamilton & Kathleen Fox Mr. & Mrs. Gordon D Gladden

Alan & Debbie Goodman Mrs. Bruce S. Hall

Julia Hancock & Ed Fooks Mary-Alice S. Hawkins

Irving & Bernice Herrick Bob & Eleanor Hoekstra

Adrianne & Lewis Kadushin Jim & Donna Kaylor

Pat & Rod Layton Chuck & Sheila Lemak

Mary Beth & Terry Lindsay Jean & Ralph Lopez

Ken & Liz MacFarlane Mary Frances Macon

Margy & Dick Meeks Frances M. Mezick

Susanne Morris Marian & David Patterson

Gerry Schmidlin Lester & Lillian Simpson

Lee & Manya Sterner David & Ginny Studley

Ann B. Suthowski - In memory of John J. Suthowski Mary & Stephanie Taylor

Shirley Thomas Taylor Mr. & Mrs. Richard L. Thomas

M. William & Frances Tilghman Alice M. Tweedy

Richard & Karyl Tyler Stephanie Willey

Terri & Chuck Woodward Mr. & Mrs. Dan Zimmerman

Sponsors

Carroll Banks Interior Design Barbara Benton

Ron & Mary Jane Davenport Alfred Huffer

Dorothy P. Moon Marjorie Poisker

Betty Provance

Friends

Rachel A. Adkins Marie Calafiura

Cindy Callaway Whitney Cole

Anne J. Cuomo Haag/Mazzocoli Family

Fred Herrmann Mr. & Mrs. Arthur Lankford

Richard & Nancy Mutter Eleanor Plachta

Mr. Richard Sames

We apologize for omitting names of patrons; however, this was our list at press time.